Aluminium Bi-Fold Doors, Portsmouth
Aluminium bi-folding doors are a very popular, contemporary solution for homeowners in Portsmouth and the surrounding areas. Their modern and sleek design, with slim sightlines, create a seamless transition through from your property to your garden area.
With outstanding thermal performance and high-quality security, aluminium bi-folding doors do not compromise anything to get better views and more natural light into your property. These Smart doors can completely change your life, so get in touch today to start designing your very own bespoke doors.
---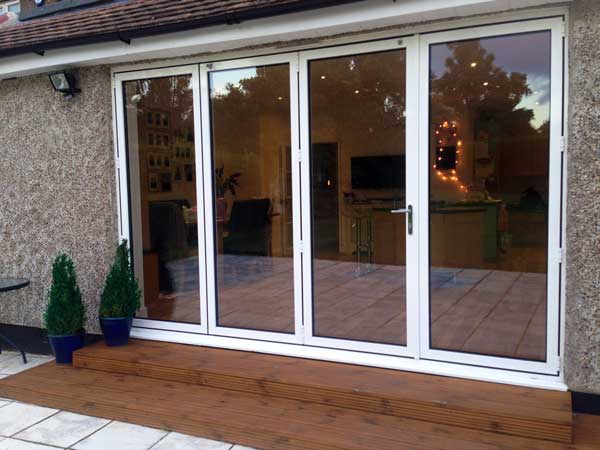 ---
Aluminium Bi-Fold Doors Features
Ideal For Extensions
Do you have an extension, but want it to connect more with your outdoor and garden space? Bi-folding doors can open out your wall, blurring the threshold between the inside and outside of your property. Folding back in a concertina shape for easy storage, the wide space created brings in a lot of natural light and ventilation. By having bi-folding doors fitted, you will get more use out of your garden as well as your extension.
Configuration Choices
No two homes are the same, so why should your bi-folding doors be any different? These doors come in a range of different configurations. The door and window sections can be separated or joined, allowing you to easily enter your garden without opening the entire wall. You have 100% control over your design, with choices of whether your bi-folds will open inwards or outwards to help save space.
---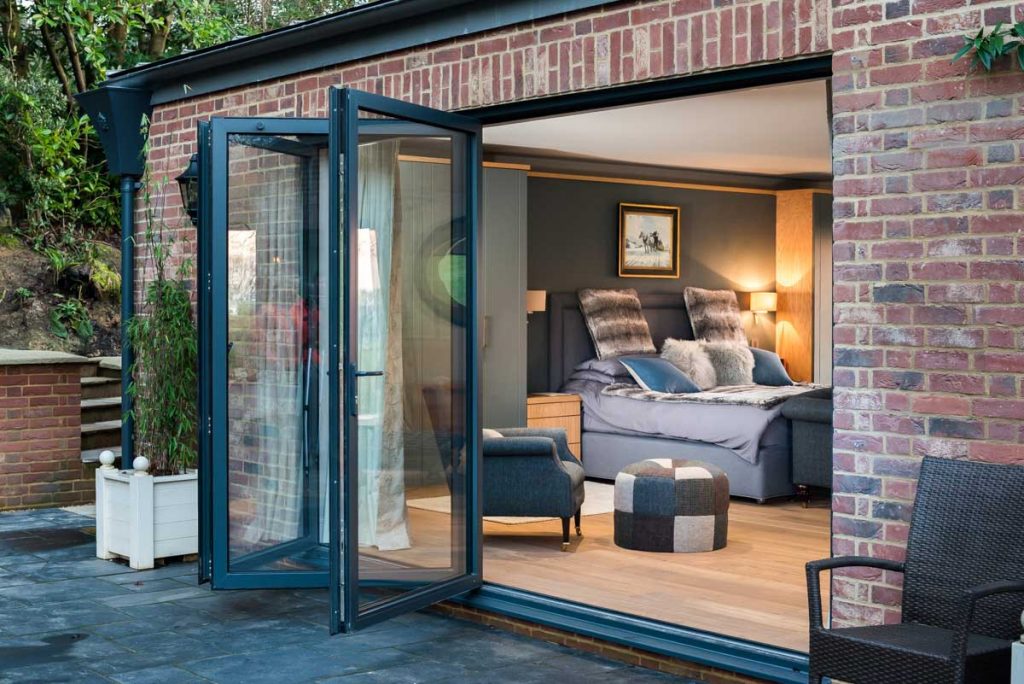 ---
Durable Materials
Aluminium is an incredibly robust material, with a long lifespan that doesn't discolour, warp, crack or misshape. With these doors able to be fitted across large widths, you won't find any flaws in their design. This means that you will have amazing thermal performance, security and able to be enjoyed all year round.
Thermal Performance
While your bi-folding doors have maximum glazing, this doesn't mean you have to compromise on thermal efficiency. Our aluminium frames create a thermal barrier, and our durable double glazing prevents the greenhouse effect during summer months. This means that your property or extension will not become unbearably hot or muggy.
This increased thermal performance doesn't just save you from using your central heating as much; it also helps you decrease your carbon footprint.
---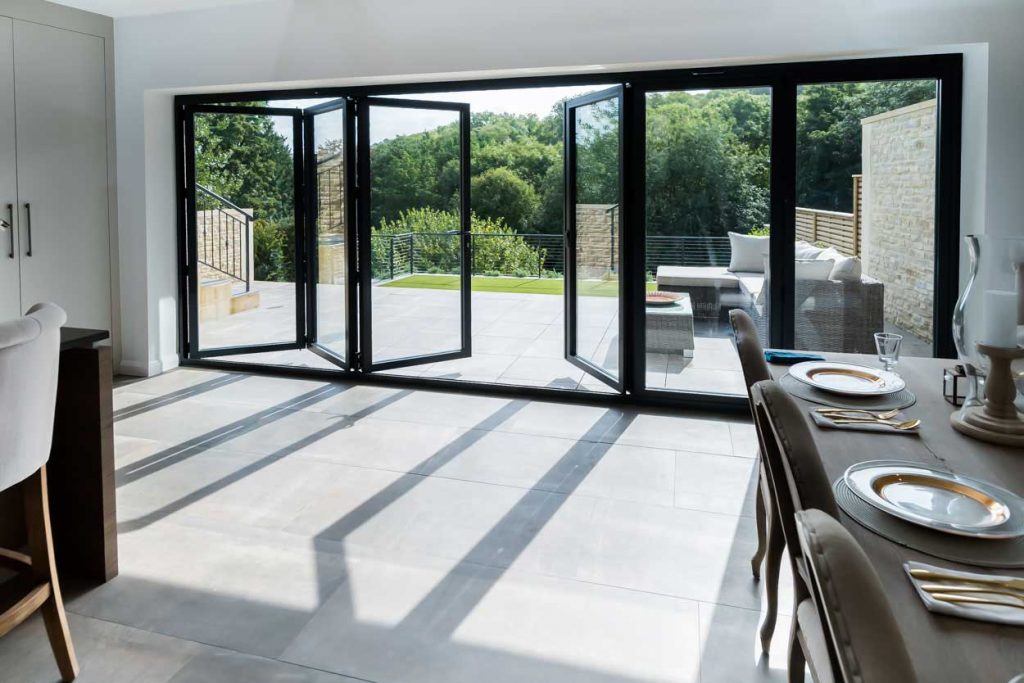 ---
Aluminium Bi-Fold Doors Designs
We here at Eco Window Solutions pride ourselves on customer satisfaction. We work hard to make sure that every installation that we perform is the best quality it can be and complements your property in Portsmouth. We also offer a range of different hardware, including hinges and handles, so that it has the perfect finish.
Your aluminium doors are covered in a special powder coating, preventing discolouration even after years of exposure to direct sunlight. Even years later, your new bi-folding doors will keep their appearance and their performance quality.
Performance
Our aluminium bi-folding doors are built to last, with smooth operation that will last through thousands of opening cycles. With minimal upkeep aside from the occasional wash, these bi-folding doors are ensured to last you for years to come.
---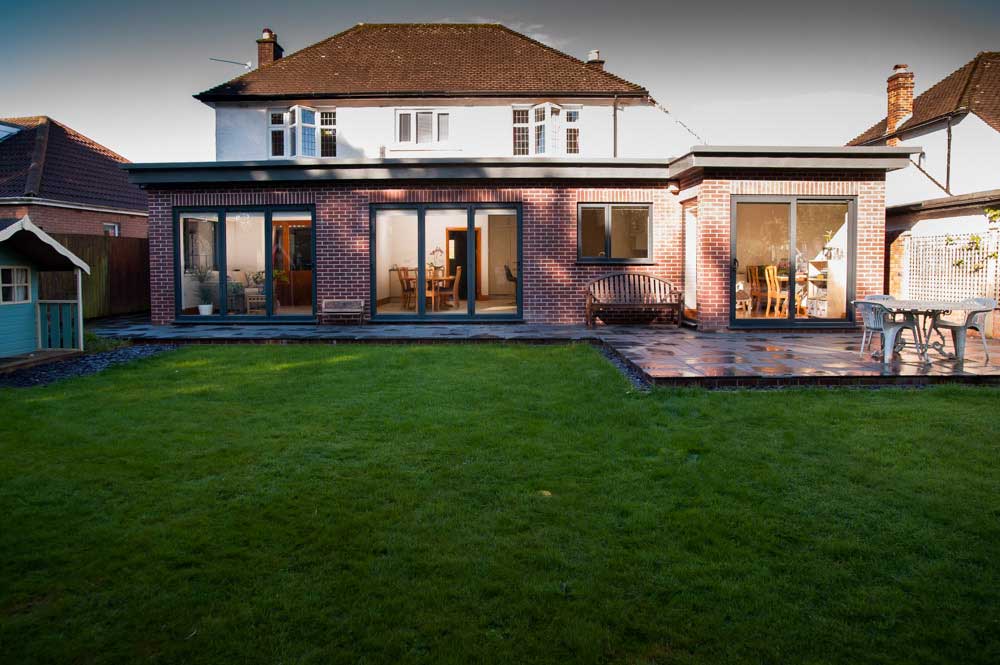 ---
Aluminium Bi-Fold Doors Prices, Portsmouth
Are you looking to get some new aluminium bi-folding doors for your property in Portsmouth? Get in touch with us today through our online contact form. We are all too happy to answer any questions you may have about any of our products, services or installations.
If you want to get started designing right away, however, head on over to our free online quoting engine and start designing your very own bespoke aluminium bi-folding doors to perfectly suit your personal taste and property today. We will then shortly be in touch to offer you a competitive quote, with zero obligation to you.
We look forward to hearing from you soon!
Categories: Doors
Tags: aluminium bi-fold doors portsmouth, aluminium bi-fold doors quote portsmouth, aluminium bifold door prices portsmouth