Bi-Fold Doors, Portsmouth
Bi-folding doors are becoming an increasingly popular home improvement solution for homeowners throughout Portsmouth and the surrounding areas. A contemporary, modern feature that enhances both traditional and modern properties, creating a wide and accessible throughway out into your garden and outdoor area, allowing you to utilise it more into your day-to-day living space.

With state-of-the-art thermal efficiency, weatherproofing and security, these doors not only provide a great look to your property but also allow you to be able to enjoy them all year round, no matter the weather. Even when closed, these bi-folding doors provide outstanding views, with slimline frames maximising the amount of glass per panel. When open they fold back to discreetly fit against the wall to minimise any obstruction into your living space.

Get in touch with Eco Window Solutions today to talk through our products and your available design options for your property in Portsmouth.
---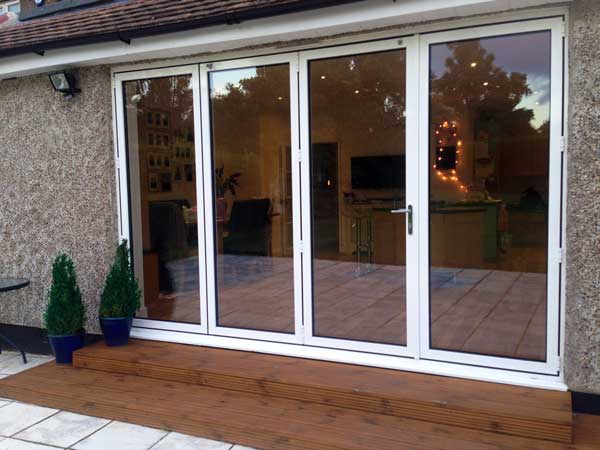 ---
Bi-Fold Door Features
Perfect For Extensions
If you have an extension, orangery or conservatory then you want to be able to easily access your garden. A bi-fold door allows you to fully open up an entire wall of your property out to your garden, blurring the threshold between the inside and outside of your home. Your extension or conservatory is a great place to put bi-folding doors, because of their large sections of glass and usability as a garden or sunroom, with the option available to transform it into an extension of your interior space, such as a kitchen-diner or living room.
Folding back in a concertina shape, once opened these doors allow for excellent ventilation that prevents your home from becoming hot and stuffy during warmer weather.
Configuration Choices
So that you can get the best use out of your bi-folding doors when designing the bi-folding doors you can choose from a variety of different configurations that allow you to open your bi-fold doors whichever way best suits your property.
Including options opening from the left and right, you can also choose a central opening, as well as a separate, fixed door that allows for easy access to your garden without having to open up your entire wall to the elements during bad weather.
---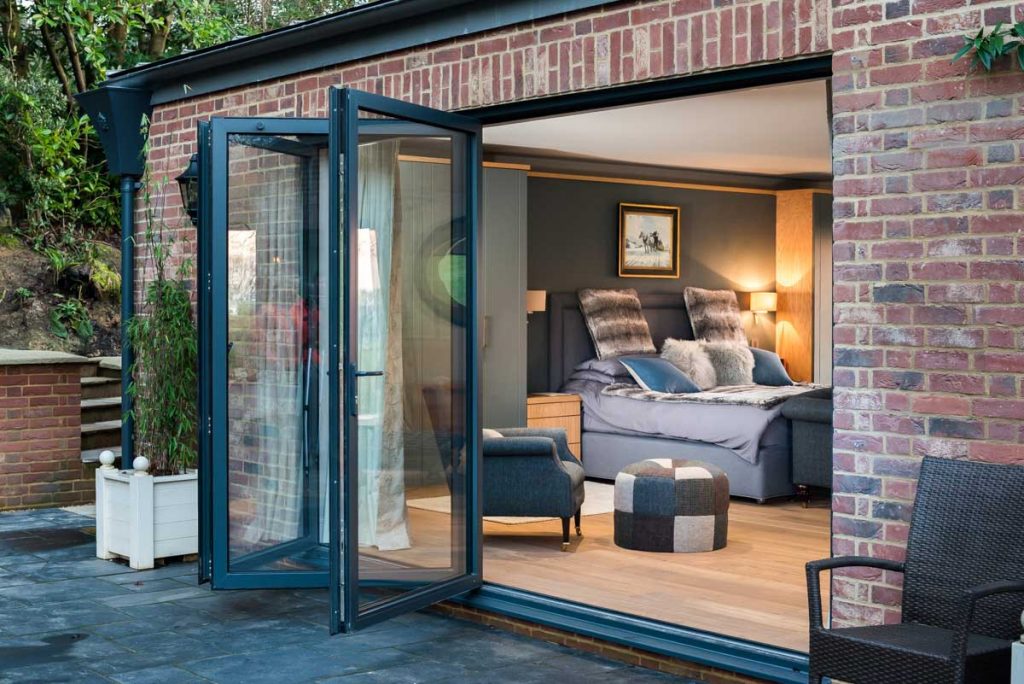 ---
Durable Materials
Bi-fold doors come in both uPVC and aluminium frames, both being incredibly hard-wearing and long-lasting, able to survive for years with minimal upkeep aside from the occasional wash.

Lasting for at least 20 years, uPVC frames can be made to replicate traditional wood-grain frames, giving your property that traditional aesthetic without all the needed additional sanding, varnishing and repainting every few years to keep its appearance.

Aluminium is a more modern design but is still a great fit for traditional homes as well as contemporary ones. Longer lasting than uPVC, with a lifespan of around 40-45 years, their metal frames are able to withstand decades of exposure to the elements without warping, cracking, chipping or showing any real signs of outward wear and tear.
Thermal Performance
A poorly performing door can be a major cause of heat loss in your home, which is why our bi-folding doors are made with efficient, sturdy double glazing and frames that trap the warm air within your home and prevent it from escaping, as well as stopping any cold air from coming in from the outside.
This not only means that you will be able to enjoy your property or extension all year round, without suffering draughts or cold during the winter months but will also save you money on your heating bills, as well as decreasing your carbon footprint.
---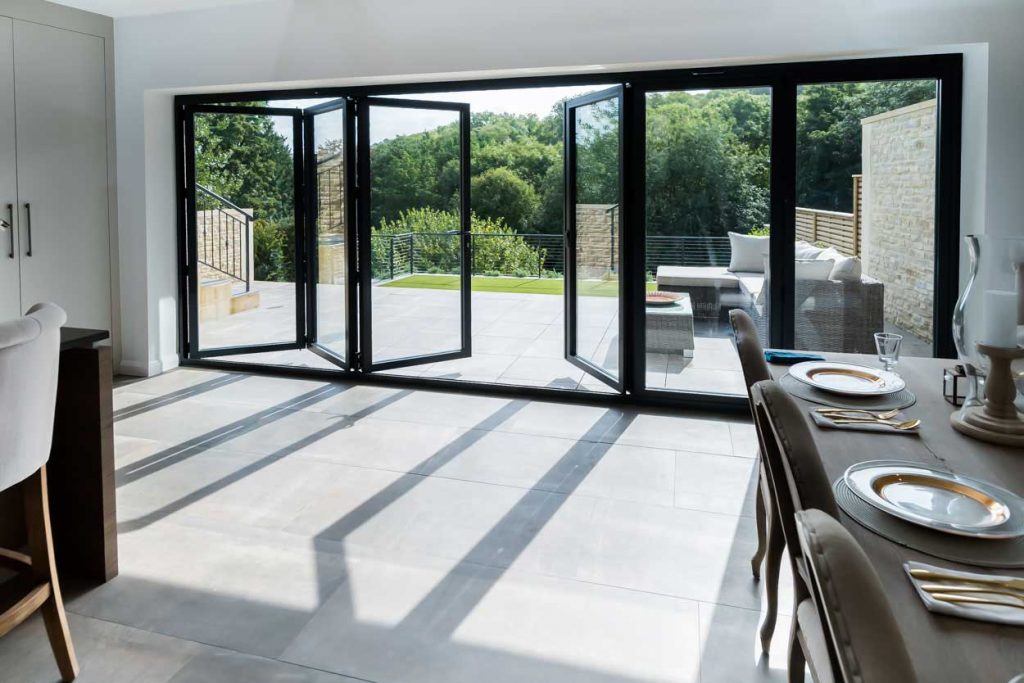 ---
Bi-Fold Doors Designs
We here at Eco Window Solutions pride ourselves on providing outstanding customer service and satisfaction for our clients in Portsmouth and the surrounding areas, with a variety of high-quality bi-folding door designs that are versatile and customisable to be able to suit any kind of property whatsoever.
We also offer a range of hardware, including handles, letterboxes, hinges and more so that whatever kind of door you get you will be able to make it your own.
Performance
Our bi-fold doors are made to last, with hard-wearing materials, smooth operation and an appearance that will remain top-quality even after thousands of opening cycles and years of exposure to the worst of the British weather.
---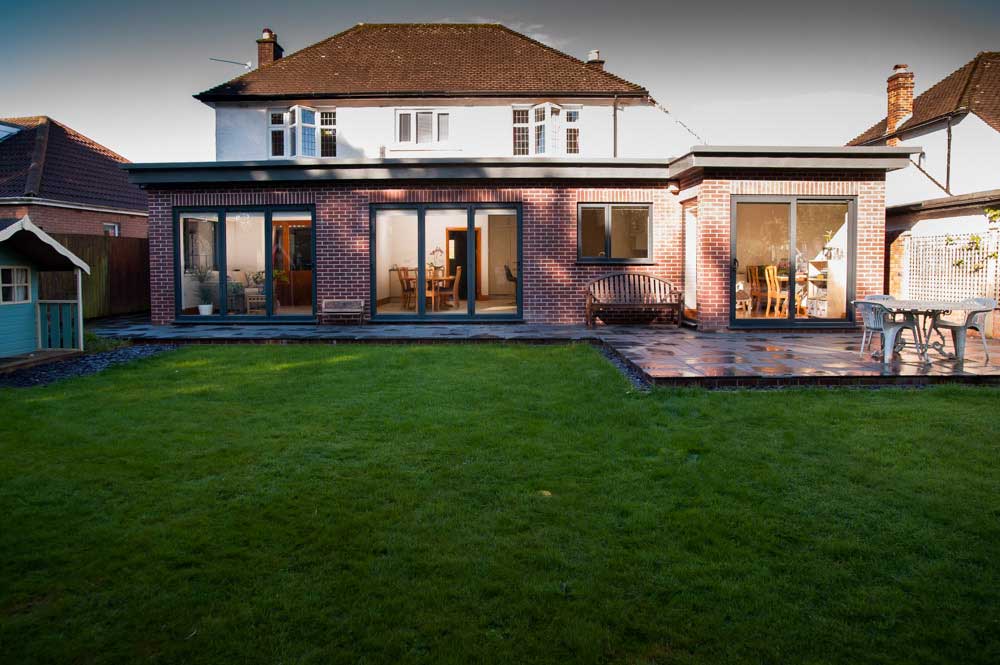 ---
Bi-Fold Doors Prices, Portsmouth
Are you interested in getting a set of brand new bi-folding doors for your property in Portsmouth or the surrounding areas? Design your very own bespoke bi-fold door from scratch by using our free online quoting engine, allowing you to design your door from scratch, including sizes, styles, materials, colours and additional features.
If you have any questions about any of our products or installation services, get in touch with Eco Windows and Doors today through our online contact form, and a member of our team will be in contact with you shortly to talk you through all of your available options.

Categories: Doors
Tags: bi-fold door prices, bi-fold doors portsmouth, bi-folding door prices, bi-folding doors portsmouth